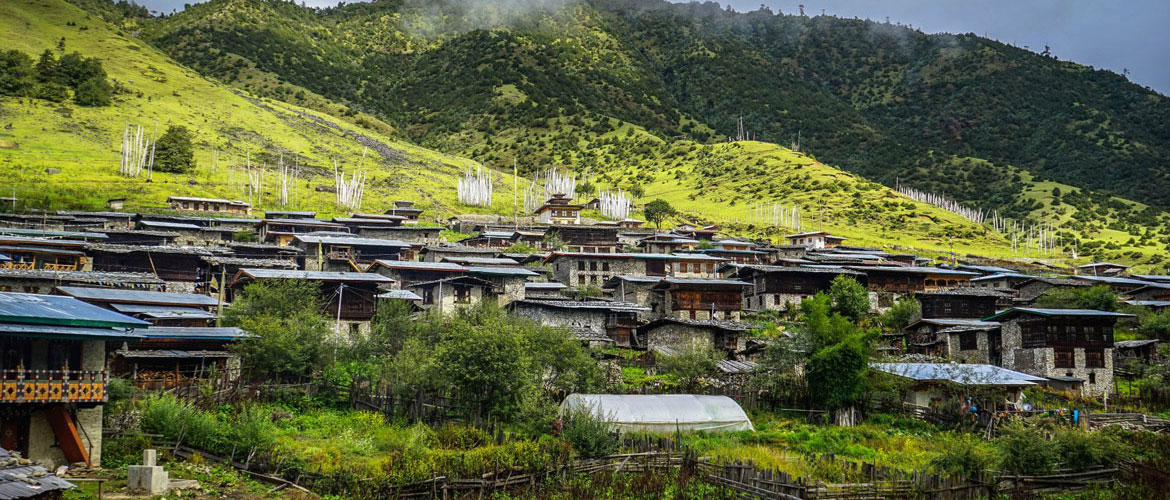 Merak-Sakteng stands out as a distinct attraction in Bhutan. Unlike anywhere else in the country, it offers a visitor to experience a unique semi-nomadic lifestyle, culture and vernacular in one of the most scenic pastoral valleys in the protected area of Sakteng Wildlife Sanctuary (SWS) in Trashigang Dzongkhag (District), in Eastern Bhutan.
It is a moderate trek (between 1,500m and 4,100m) traversing through the semi-nomadic villages of Gengu (3400m), Merak (3500m), Sakteng (2800m), Thakthi (2200m), and Joenkhar (1700m). Tour operators are not mandated to use a particular trail but the most common trail usually begins from Chaling and ends in Phongmey. Both these Geogs of Merak and Sakteng are an important watershed for Ngere Ama chu and Gamri chu rivers respectively.
The campsites have been designed aesthetically to blend with local architecture and ambiance. Enclosed by a stonewall (with a gate to bring in the ponies to unpack trekking paraphernalia), the campsite is equipped with facilities such as tenting sheds, toilets, kitchens (in some), dining area and water supply. A signage describing the location, altitude, forest type, fauna, additional hiking trails in the locality, distance and time to next camp welcomes a visitor to each campsite.
Day 1: Chaling – Damnongchu
The trek to Merak will start from Chaling reached by following an unsealed road from Rangjung. Damnongchu camping area is located after Mindrula which lies at about 3,316m / 10,880ft.
Day 2: Damnongchu – Merak (5 hours, camp altitude 3,499 m)
The trail from Damnongchu to Merak goes along the river bank with gradual ups and downs. Over night at Damnongchu Camp.
Day 3: Merak – Miksa Teng
The trek from Merak to Miksa Teng is long and of medium difficulty. It will pass through the beautiful Nagchungla pass (approx 4,100m / 13,451ft). The campsite is located in a clearing surrounded by rhododendron trees.
Day 4: Miksa Teng – Sakteng
Trek to Sakteng from Miksa Teng is easy making your way through beautiful woods with a short climb before reaching Sakteng. Overnight at Camp.
Day 5: Sakteng Day Halt
Time to explore this remote Himalayan village.
Day 6: Sakteng – JyonkharTeng (6 1/2 hours, camp altitude 1,859 m)
Sakteng to Jyonkhar Teng trek is an easy trek comparing to previous days. It is mostly downhill to Jyonkhar Teng camp.
Day 7: Jyonkhar Teng – Phongmay (5 hours, camp altitude 1,981 m)
The final day. This day is full with ups and down until you reach the road the head at Phongmay. Drive to Tashigang.