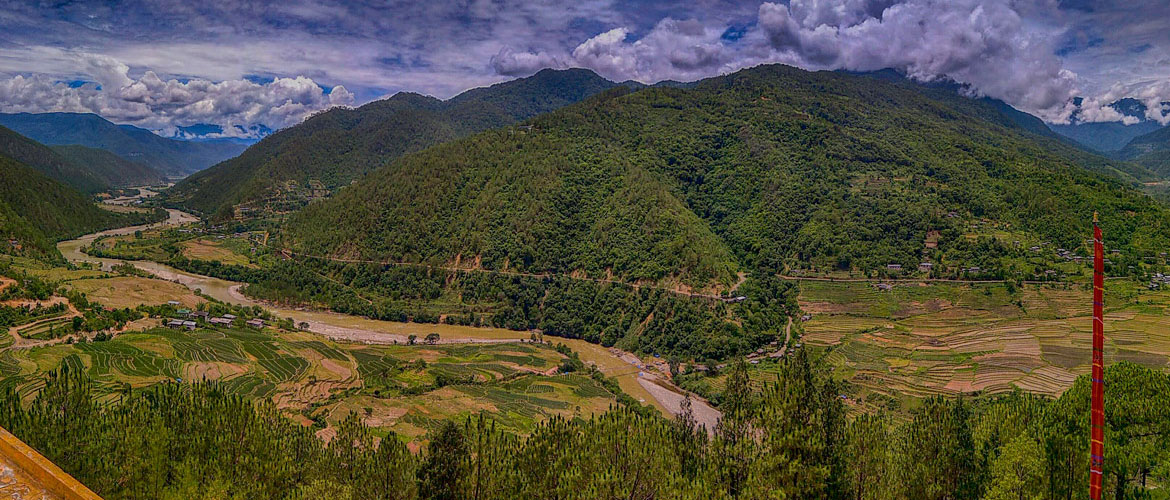 This is a short and easy trek through Punakha, the ancient capital of Bhutan. The altitude of the trail covers almost a thousand meters in range but the slopes are mostly gradual and should not present hikers with much difficulty.
This hike follows the old foot trail from Thimphu to Punakha passes through several villages, forests and rice fields. It offers incredible views of Phajoding Monastery and crosses through Sinchula Pass. Hikers will also camp near Chorten Ningpo, an ancient chorten linked to Bhutan's favourite patron saint, The Divine Madman Lam Drukpa Kuenley.
Due to the low altitude and warm climate of the area, this hike is available all winter but the best times to go are between March-May and September-November.
Day 1: Chamina – Dopshing Pang (7-8 hours, ascends 3,400m)
Drive north up the valley towards Dechencholing Palace, following the Thimphu Chhu, crossing the bridge after the army camp and before a beautiful monastery.  Follow the unsealed road just above Chamina village.  The hikes starts here.
From this point, if the weather is clear, you can see Phajoding monastery, which is located just above Thimphu. After 2 km, you can see Thinleygang village, Talo Monastery and the motor highway towards the ancient capital of Bhutan, Punakha. The trek from the pass is more or less downhill until you reach the campsite.
Day 2: Dopshing Pang – Chorten Ningpo (8 hours, camp altitude 2,700 m)
The trek to Chorten Ningpo is rather gradual and will take trekkers through thick forests, villages and rice fields.
Punakha Winter Trek – Finish
The trek finishes at Chorten Ningpo which is linked to Drukpa Kuenley, better known as the "divine madman".