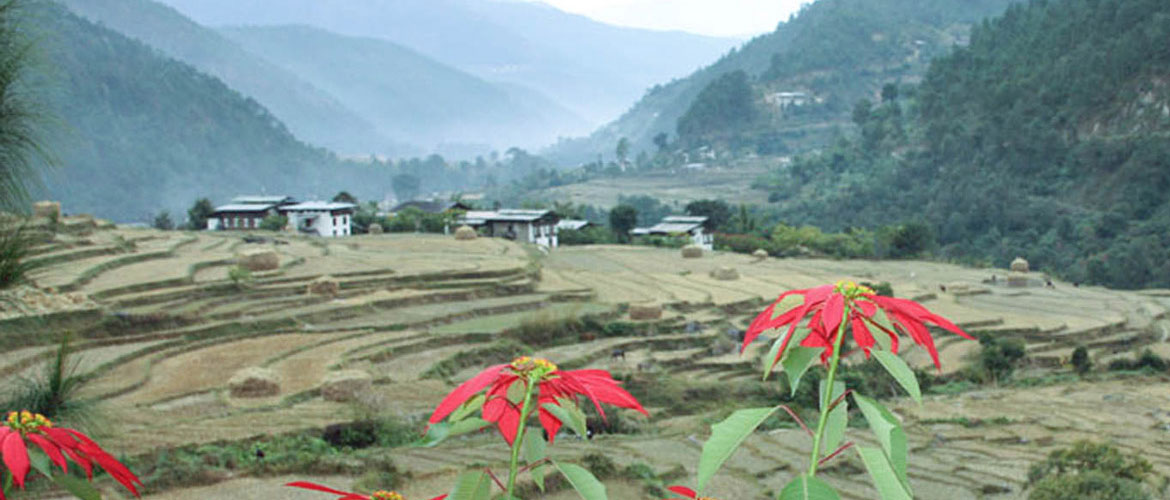 This four day trek is a short and pleasant journey from Punakha to Wangduephodrang Dzongkhag. It is a fairly easy trek as the altitude only ranges between 1100-1900m and the climate is warm throughout the hike.
The path takes you through forests of rhododendron and oak, through the villages of Sha and Chungsakha and across the longest foot bridge in Bhutan. While this trek is available throughout the winter the best times to embark on it are between March-April and September and October. The trail is approximately 54km in length.
Day 1: Punakha – Limukha (Distance 12 km, 4 hours, 880 m ascent, camp altitude 1,980 m)
After passing majestic Punakha Dzong you cross a footbridge over the Pho Chhu and walk up to Shengana. This is the longest bridge in Bhutan. You then climb gradually through the forest until you reach Limukha. Make sure you are carrying enough water as you won't find any on the way to Limukha.
Day 2: Limukha – Chhungsakha (Distance 14 km, 5 hours, 430 m descent, camp altitude 1,550 m)
The path leads through rhododendron and oak forests to Chhungsakha. Chungsakha is a small village of about 10 houses. You'll find a holy stone and an impressive Cyprus tree here that are reminders of Drukpa Kuenley, the "divine madman".
Day 3: Chhungsakha – Samtengang (Distance 13 km, 5 hours, 650 m ascent, 270 m descent, camp altitude 1,830 m)
You walk downhill until you cross Pe Chhu before climbing again through the village of Sha on your way to Samtengang. Near the school in Samtengang you will see a small lake and your campsite is right next to it.
Day 4: Samtengang – Chhuzomsa (Distance 15 km, 5-6 hours, 730 m descent)
The trail leads steeply downhill on a treeless slope to the road head at Chhuzomsa.