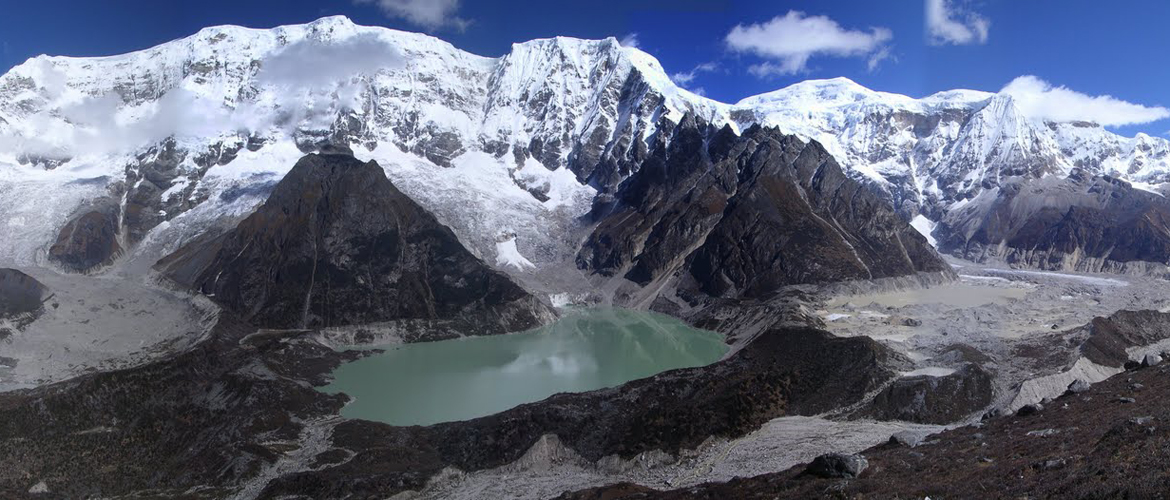 The Snowman Trek is an extension of the beautiful Laya Gasa Trek, and leads from Laya into high altitudes of the Bhutanese Himalayas. It takes tough and enduring trekkers into the Lunana region and further on to Gangkhar Puensum and Bumthang or down to Sephu in Trongsa district, depending on which route you choose. The Snowman trek leads through the most remote areas up to very high altitudes. Trekkers have to camp in altitudes above 5,000m more than once, and depending on the seasonal temperatures, the camps are sometimes on snow.
Day 1: Gunitsawa Village – Sharna Zampa (40mins, 80 m descent, camp altitude 2,850 m)
This trek begins at Gunitsawa Village were you pass the army post. At the army checkpost your trek permit (provided by your tour operator) will be checked and endorsed. The campsite is on the opposite side of the river, not far from Gunitsawa.
Day 2: Sharna Zampa – Thangthangkha (Distance 22 km, 7-8 hours,  770 m ascent, 10 m descent, camp altitude 3,610 m)
On this long day, the trail continues with lots of small ups and downs. After going uphill through the river valley the valley finally narrows gradually to a mere path which descends to a meadow where a camp will be set up. From here, if weather permits, you will have the first great view of Mt. Jomolhari.
Day 3: Thangthangkha – Jangothang (Distance 19 km, 5-6 hours, 480 m ascent, camp altitude 4,080 m)
If you did not see Mt. Jomolhari the previous evening, you will still have a chance to get a great view early this morning. This morning the trek continues up the Paro Chhu valley which widens into patches of alpine meadow and scanty growths of forest. You will cross an army checkpoint along the way and enjoy a spectacular view of high mountain ridges and snow-capped peaks. In this area yaks and their herder's homes become a regular feature of the landscape. Passing the villages Soe, Takethang and Dangochang is another asset on this day. After reaching Jangothang, one of the most beautiful campsites of the Himalayas, you will again have a spectacular view of Mount Jomolhari.
Day 4: Jangothang Halt
The rest day in Jangothang provides plenty of possibilities for day hikes with great views of lakes and snow capped mountains such as Jomolhari and Jichu Drake. There are good chances to spot some blue sheep on the upper slopes of the valley. Jangothang is a perfect environment for your acclimatization. You can also trek up to Tosoh or hike around the area. There are good short hiking trails in three directions. Jomolhari and its subsidiary mountain chains lie directly west, Jichu Drake to the north and there are a number of unclimbed peaks to the east.
Day 5: Jangothang – Lingzhi (Distance 18 km, 6-7 hours, 840 m ascent, 870 m descent, camp altitude 4,010 m)
This is one of the longest days of the trek.  A short distance from the camp the trail begins climbing rapidly for about half an hour and then becomes a gradual ascent to the Nyilila pass at 4,870m. While on the climb enjoy the surroundings. You might see herds of blue sheep grazing on the slopes of the mountains. From the pass you will have spectacular views of Mt. Jomolhari, Jichu Drake and Tsherimgang, all of them rising above 7,000m. It's a gradual descent to the camp where you will pass by some of the yak herder's tents, made from yak wool. The herders use these tents while travelling tovarious pastures for their yaks. As you come down into the Lingshi basin, a beautiful U-shaped valley, you get a wonderful view of Lingshi Dzong on clear days. Tserimgang and its glaciers rise up at the north end of the valley. The campsite is next to a stone hut you reach just before Lingshi Dzong.
Day 6: Lingzhi – Chebisa (Distance 10 km, 5-6 hours, 280 m ascent, 410 m descent, camp altitude 3,880 m)
Today is the shortest walking day, and you can really take it easy. Shortly after starting you will reach a chorten below Lingshi Dzong. Here, you have the choice of staying on the main trail or taking a detour up to the Lingshi Dzong (4,220m), which sits right atop a high ridge.  This Dzong is under reconstruction from a 2011 earthquake which damaged its central building. In addition to a very special atmosphere of mystic tranquility, Lingshi Dzong provides a great view over the valley. After Lingshi Dzong you will be passing the villages of Lingshi and Goyul. In Goyul, the stone houses are clustered together to form a small compact village that is unusual in Bhutan where settlements are usually scattered. On reaching the campsite at Chebisa you will have plenty of time to visit the village houses if you feel up to it. There is also a beautiful waterfall located behind the village that is worth visiting.
Day 7: Chebisa – Shomuthang (Distance 17 km, 6-7 hours, 890 m ascent, 540 m descent, camp altitude 4,220 m)
The morning starts with a long ascent behind Chebisa Village (2-3 hours) through a wide pastureland towards Gobu La (pass). On the way, you will see a few people herding yaks. There is also a great chance to spot large herds of blue sheep above the trail. After crossing Gobu La (4,410m), you descend into the valley, then climb again a little bit, before descending again to Shakshepasa (3,980), a large U-shaped valley. Climbing from here you will finally reach the campsite at Shomuthang, above a river, which is a tributary of the Nochu river.
Day 8: Shomuthang – Robluthang (Distance 18 km, 6-7 hours, 700 m ascent, 760 m descent, camp altitude 4,160 m)
You begin by climbing up the valley to view Kang Bum (6,526 m) and some edelweiss. After two hours of climbing you will reach Jhari La (4,750m), from where you catch the first glimpse of Sinche La, the pass you will have to cross the day after. The big snow peak in the north is Gangchhenta 6,840 m, better known as the Great Tiger Mountain. If weather is clear, Tserim Kang and the top of Jomolhari will be visible. The camp by the river is called Tsheri Jathang located in a beautiful wide and remote valley. Herds of takin, the Bhutanese National Animal, migrate to this valley in summer and remain for about four months. The valley has been declared a takin sanctuary. Climb up a little bit and you will reach the campsite at Robluthang in a rocky meadow.
Day 9: Robluthang – Limithang (Distance 19 km, 6-7 hours, 850 m ascent, 870 m descent, camp altitude 4,140 m)
The trek starts out with an initial 40-60mins ascent before gradually raising for another 1.5 hours through a boulder field.  It is then a 1 hour steep ascent before reaching Sinche La (5,005m) – the final and highest pass on the trek if you don't intend to continue the Snowman trek from Laya onwards.  As you descend the far side of the passyou will see an impressive terminal moraine and a glacial lake at the foot of the valley. You can see classic examples of lateral moraines where the glacier has pushed rocks up both sides of the valley. Below the moraine, you cross the Kango Chhu and soon reach the Limithang campsite. The peak of Gangchhenta towers over the campsite even though it's quite a distance away.
Day 11: Rest / Acclimatisation day in Laya
If you have trekked from Paro Valley you should spend a day recuperating from the trek to Laya and preparing yourself for the rest of this challenging but spectacular trek. If you have started from Gasa (Punakha) you should also walk up to Laya to acclimatize, and not just stay at the trail junction to Lunana. It's worthwhile to spend one day in Laya just for the great views from Laya and its extroadinary inhabitants.
Day 12: Laya – Rhoduphu (Distance 19km, six to eight hours, 1,030m ascent, 750m descent, camp altitude 4,160m)
From Laya we descend to an army camp and continue following the river till the turn off point to Rhoduphu. After lunch the climb continues through rhododendron bushes till you reach the camp at Roduphu just next to the Rhodu Chhu.
Day 13: Rhodophu – Narethang (Distance 17km, five to six hours, 740m ascent, camp altitude 4,900m)
After following the river for about half an hour you will have a steady climb to a high open valley at 4,600m and then further up to Tsomo La (4,900m). Tsomo La offers a superb view of Lunana, Mount Jomolhari and Jichu Drake, and the Tibetan border. The route then crosses a flat, barren plateau at about 5,000m. The campsite at Narethang is towered by the peak of Gangla Karchung (6,395m).
Day 14: Narethang – Tarina (Distance 18km, five to six hours, 270m ascent, 1,200m descent, camp altitude 3,970m)
From the camp you will climb for about an hour to Gangla Karchung La (5,120m). The view from the pass is breathtaking and the whole range of mountains including Jekangphu Gang (7,100m), Tsenda Kang and Teri Gang (7,300m) can be seen. The pass descends along a large moraine. Again one has great views: a massive glacier descends from Teri Kang to a deep turquoise lake at its foot. Up here a glacial lake burst through its dam in the early 1960s, causing widespread damage and partially destroying Punakha Dzong. Finally, it is a very long descent through thick rhododendron to Tarina valley, where you will find several good campsites along the Tang Chhu.
Day 15: Tarina – Woche (Distance 17km, six to seven hours, 270m ascent, 330m descent, camp altitude 3,910m)
The walk leads down through conifer forests following the upper ridges of the Pho Chhu, passing some impressive waterfalls. The trail then climbs over a ridge and drops to Woche, a settlement of a few houses, the first village in the Lunana region.
Day 16: Woche – Lhedi  (Distance 17km, six to seven hours, 980m ascent, 1,190m descent, camp altitude 3,700m)
The trek starts through juniper and fir forests, and further ahead, through rhododendron bushes. Climb up to Keche La pass (4,650m) where one can have the great view of surrounding mountains again. After the pass, descend to the riverside walking through a village with a stunning view of Table Mountain and others. Follow up the river till Lhedi Village. Lhedi has a basic health unit, a school and a wireless telephone connection.
Day 17: Lhedi – Thanza (Distance 17km, seven to eight hours, 450m ascent, camp altitude 4,150m)
In clear weather, you will have great views of Table Mountain (7,100m).  Around lunchtime you will pass the small village of Chozo (4,090m) which has a dzong still in use. Reaching Thanza again you will have a great view of Table Mountain which forms a 3,000m high wall of snow and ice behind the village. Although there are possibilities to camp directly at Thanza, most groups prefer to camp in Thoencha.
Day 18: Rest day at Thanza
In Thanza walk around and experience some village life or climb up the ridge for fascinating views of lakes and mountains. But as it takes time to arrange new yaks (the yaks from Laya will not go further than Thanza) you might have to spend one day at Thanza anyway.
Day 19: Thanza – Danji (Distance 8km, three to four hours, 80m ascent, camp altitude 4,230m)
From Thoencha, the trail climbs up to a large boulder from where you will have excellent views of Thanza, Toencha and Choso village and the surrounding mountains. After a few hours of relatively flat and easy walking, you will reach a yak meadow with some yak herders' huts. An excellent campsite with a great chance to spot some blue sheep on the hills above. A trail junction near the campsite will give you the choice between the route up to Gangkhar Puensum base camp, and further on to Bumthang or to Sephu (Trongsa). Both routes are described in this website.
Day 20: Danji – Tshochena (Distance 12km, five to six hours, 980m ascent, 240m descent, camp altitude 4,970m)
Having chosen the route to Sephu, the trek crosses the creek and after a long climb, you will reach Jaze La (5,150m) with spectacular panoramic mountain views . The path then descends between snow covered peaks and a couple of small lakes to the campsite near the shore of Tshochena lake.
Day 21: Tshochena – Jichu Dramo (Distance 14km, four to five hours, 230m ascent, 150m descent, camp altitude 5,050m)
You follow the bank of the blue green lake before arriving at a ridge at 5,100m, where there is another spectacular view in all directions. After going up and down over small hills to reach a glacial lake, the route descends first before climbing again up the next pass, the Loju La (5,140m). Finally after crossing a small saddle (5,100m) you will enter a wide glacial valley from where the trail descends gradually to the campsite at Jichu Dramo.
Day 22: Jichu Dramo – Chukarpo (Distance 18km, five to six hours, 320m ascent, 730m descent, camp altitude 4,600m)
Right after leaving the camp you will climb through a moraine to Rinchen Zoe La (5,320m). Spectacular mountain scenery with Gangkhar Puensum amongst the impressive mountains is the reward for climbing the highest pass on this trek route. Rinchen Zoe Peak (5,650) towers above the pass the west. Descending from the pass, the route leads into a wide valley with several lakes and goes steeply down along a moraine to the Thamphe Chhu. Here the vegetation begins to thicken again and you will see the first real trees since Lhedi. After a couple of hours you reach the campsite at Chukarpo.
Day 23: Chukarpo – Thampe Tsho (Distance 18km, five to six hours, 400m ascent, 700m descent, camp altitude 4,300m)
The descent continues along the river till you reach the yak herder huts at Gala Pang Chhu (4010m). From here the trail climbs steeply towards Thampe Tsho, a beautiful clear turquoise lake, with the campsite next to it.
Thampe Tsho – Maurothang (Distance 14km, five hours, 330m ascent, 1020m descent, camp altitude 3,610m)
From the lake you climb steeply to the last pass on your trek, the Thampe La (4,600m) with a good chance to spot some blue sheep on the way. Then the path descends to the sacred lake Om Thso. Passing a waterfall you will reach another, smaller lake 100m below to descend steeply to the Nikka Chhu. The path finally leads through mixed forest to large clearing on the banks of the river with a few yak herder huts, Maurothang.
Day 25: Maurothang – Sephu
(Distance 18km, five to six hours, 990m descent)
On the last day of this extraordinary trek your porters will have to change from yaks to horses as the yaks will not be willing to go further down. The path follows the Nikka Chhu to reach a large grassy area overlooking the road and the village of Sephu. You finally reach the road at the Nikka Chhu bridge at Sephu where you will find several stores (mainly selling bamboo products) and small restaurants.
Snowman Trek I – Finish 
Sephu